Georgia Eligibility Case Co-Conspirator Jill Pryor Gets Payback After Lying For Obama
Georgia Eligibility Case Co-Conspirator Jill Pryor Gets Payback From Obama After Lying For Him Regarding Natural Born Citizen

I'm sure those following Obama's ineligibility can remember the eligibility case from Georgia, where Judge Malihi illegally amended Article 2, Section 1, clause 5 of the Constitution and unlawfully redefined the meaning of "Natural Born Citizen", with the stroke of a pen, right? Well, it seems that one of the co-conspirators in helping to redefine Natural Born Citizen, Attorney Jill Pryor, could be getting her payback for aiding and abetting in the cover up of Obama's eligibility.
Back in February of 2012, Administrative Law Judge Malihi handed down his order claiming that "President Barack Obama is eligible as a candidate for the presidential primary election under O.C.G.A. § 21-2-5(b)" and labeled his as a "natural born citizen".
Somehow Judge Malihi came across a 19 page "note" from the Yale Law Journal titled "The Natural-Born Citizen Clause and Presidential Eligibility: An Approach for Resolving Two Hundred Years" and the note was added in as a footnote to Malihi's February 3, 2012 opinion supporting the natural born citizen definition, which you can see on page 6 of his decision.

You will notice that the web address from the The Yale Law Journal note is from the "WayBack Machine" and not the Yale Law Journal and that is because it was deleted by someone. Why would someone want to delete this note? Perhaps it was to cover someone's behind in the event Congress wanted to research Jill Pryor, the author of the YLJ note. Jill Pryor is currently an attorney in Georgia working for Bondurant, Mixson & Elmore and less then 2 weeks after Judge Malihi's decision in the eligibility case was handed down, Jill Pryor gets nominated by President Obama for the 11th Circuit Court of Appeals in Georgia. Is this just a coincidence or is Obama paying her back for aiding and abetting him in his quest to fool the American people on his true identity?
Although Jill Was nominated for the position over 2 years ago, it wasn't until just last week on May 13, 2014 that she had her hearing with the Senate Judiciary Committee which will confirm or deny her appointment. We can not let this woman get appointed to Federal Court when her idea of a natural born citizens is "It is well settled that "native-born" citizens, those born in the United States, qualify as natural born". While she might be correct that native-born "citizens" qualify as natural born, she completely ignores the fact that all native born people are not automatically citizens according to the law. To be a native born citizen also called a natural born citizen, you must be born to parents who are citizens, as stated in the Supreme Court Case of Minor v. Happersett which states:

Minor v. Happersett, 88 U.S. 162 (1874)
"The Constitution does not, in words, say who shall be natural-born citizens. Resort must be had elsewhere to ascertain that. At common-law, with the nomenclature of which the framers of the Constitution were familiar, it was never doubted that all children born in a country of parents who were its citizens became themselves, upon their birth, citizens also. These were natives, or natural-born citizens, as distinguished from aliens or foreigners. Some authorities go further and include as citizens children born within the jurisdiction without reference to the citizenship of their parents. As to this class there have been doubts, but never as to the first."
Please help stop this woman from being appointed to the Federal Appeals Court in Georgia by contacting every member on the Senate Judiciary Committee and letting them know that she is aiding and abetting Obama in covering up his identity and helping to hide the truth that he is not a natural born citizen. Whether they believe Obama is eligible or not is irrelevant, it is the connection to Obama and his eligibility case that is the problem, which is a serious conflict of interest.
The members of the Judiciary Committee are listed below along with their phone numbers and a link to send them an email. Please call AND send an email for maximum exposure. Let's get those phones ringing off the hook!

Senate Judiciary Committee Members & Contact Info

Chairman
Senator Patrick Leahy (D – VT)
Biography »
 Ranking Member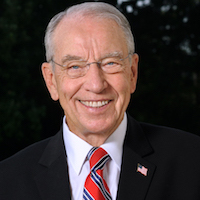 ---
10,619 total views, 50 views today